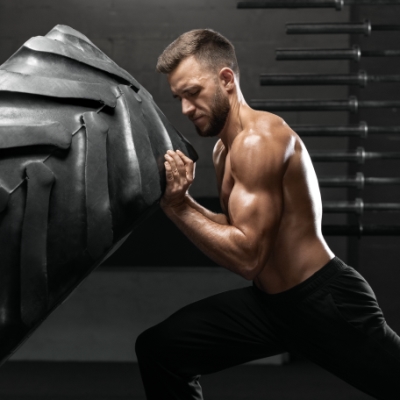 Slowing down is not an option in today's world, yet that is what is happening to many men suffering from the symptoms of adult growth hormone deficiency (AGHD). If you are one of those males with AGHD, you may benefit from starting HGH for men.
Whether your symptoms of AGHD fall under the category of cognitive decline, physical appearance decline, health concerns, or libido and sexual performance changes (or all of the above), HGH therapy may be the answer you are looking for to improve your life.
Weight gain, erectile dysfunction, muscle loss, forgetfulness, and insomnia are some of the many reasons why men throughout Houston contact our hormone clinic. Changing hormone levels can take away your zest for life, decrease your productivity, and even affect your income. Getting HGH for men in Houston, TX, can give you back the life you once enjoyed.
HGH for men in Houston, TX, can give you back the life you once enjoyed.
How Do I Know If HGH for Men Can Help Me?
Growth hormone influences many critical functions in the body, including metabolism, sexual performance, cell regeneration, immunity, and cognitive activities. If you find yourself suffering in any of these areas, then there is a chance that HGH for men is right for you.
The most common symptoms of adult growth hormone deficiency include:
Fatigue
Weight gain
Muscle and bone loss
Depression and mood swings
Forgetfulness
Low libido
Erectile dysfunction
Poor sleep
Trouble concentrating
Aging skin
Thinning hair
Reduced productivity
Frequent illness
High cholesterol
Elevated blood pressure
If you have any of these symptoms, it is time to find out if getting HGH for men in Houston is right for you.
Symptoms of adult growth hormone deficiency can impact all areas of your life – HGH for men can help reverse those changes.
What Will HGH for Men Do for Me?
When you begin treatment with HGH for men, your body will receive an increased supply of human growth hormones that the HGH receptors can put right to work. Metabolic, immune, and cellular regenerative functions will improve. You will begin to sleep better at night and have more energy available throughout the day.
We often hear from men receiving HGH therapy that they are more productive at work than they have been in years. Reports of enhanced bedroom performance frequently top the list of favorite benefits. A better sense of humor and happier disposition impacts everyone in your life.
Best of all, when using HGH for men, you will also reduce your risk of developing the following medical conditions:
Cardiovascular disease
Infertility
Type 2 diabetes
Osteoporosis
Depression
Dementia
Obesity
These are only some of the many ways that HGH therapy can help improve your quality of life.
HGH for men not only reduces your risk of many health conditions, it also improves your quality of life.
How Do I Get HGH for Men in Houston, TX?
The first step to getting HGH for men in Houston, Texas, is to find a doctor who specializes in hormone replacement therapy. If you are hesitant about going to a hormone clinic, do not worry. We have simplified the process and offer you confidential consultations over the telephone. That way, you can maintain your privacy and get the answers and treatment you need to balance your hormone levels.
The diagnostic steps include a blood test and physical examination at locations that are convenient to where you live or work. Our medical forms are available online for easy completion. Once these steps are done, our hormone doctor will review the results to determine if you have AGHD. If so, you will receive a prescription for a personalized course of HGH therapy. All medications and supplies will ship straight to your door.
For your free consultation to learn more about HGH for men, contact our hormone clinic today.